About this Value Investing Site
And About Me


It's full of stock market investing information!

It seems unusual that there is very little discussion available anywhere about the experiences of do-it-yourself (DIY) stock investors and the valuable lessons they have learned over time.
Very little specific information is available as to how to develop and manage a stock portfolio in a rational way without calling on expensive professional advice.


My Motivation
This lack of detailed information, and a request from my daughter to explain the process of stock investing, prompted me to provide a site that outlines my 40-year experience with value investing and to provide a guide to online investing for others to share.
But don't get me wrong. I am not a financial planner, I do not have a license to offer financial advice.
What I am providing is my investing experience over many years that includes four market crashes that have taught me some important lessons about investing in the stock market.
A major lesson I have learned is that stock market downturns are an opportunity to generate superior returns.


About Me
My (non-financial) qualifications include a PhD in Chemical Crystallography and an Advanced Diploma in Education. So I can claim some analytical ability and numeracy as well as a modicum of communication skills.
My working life included 10 years as a High School teacher of Science and Mathematics and a Deputy Principal. It also included some 30 years in a College of Advanced Education and a university School of Education training and advising preservice and inservice teachers.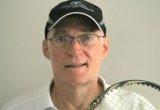 I also enjoy other interests including competitive tennis. It continues to be a source of inspiration to me that I can improve my tennis skills over time through thoughtful application and observation of others. Practice also helps!
Interestingly, the same applies to value investing!
Boating and fishing are other interests I enjoy with my family. There is nothing quite like getting out into the blue yonder and landing on a deserted beach and experiencing the sand between your toes.
After recently selling boat number three, I have purchased a new boat that I have named Panacea IV - which to me says it all.


About This Site
You will find information in this site on ways to obtain and use freely available financial information. This will allow you to develop your own financial literacy, because without it ...


... you will be like Benjamin Graham's "one-legged man trying to win an ass-kicking competition"
I do not try to overload you with a plethora of technical terms but introduce those that I use and that you may need. More importantly, I discuss their importance, or relevance to me in making investment decisions.
Other background information is also provided, like a discussion of some of the important value-investing books I have read. But here again, I try to point out what their value to me has been, rather than just describing the books.
An introduction to mutual funds is also provided. If you prefer that others manage your funds for you, or if you don't have the time, this introduction will assist you to choose fund managers who follow a value investing approach.
I also provide my experience with buying and selling stock, which stocks I avoid and why - as well as how I use internal rate of return (IRR) calculations to inform value investing selling decisions.
You can request a FREE Excel spreadsheet from me that does the calculations for you. Let me know via the Contact me page if you would like to obtain a copy of the FREE spreadsheet.
A summary of my value investing approach is found in my Investment Plan page that provides an overview of the site.
So here you have it ... one person's extensive experience with value investing!
If you have an interest and passion in a topic that you would like to share with others like I am doing, you can't go past Solo Build It!, a web hosting company that continues to provide me with excellent help in sharing my passion in value investing with you.